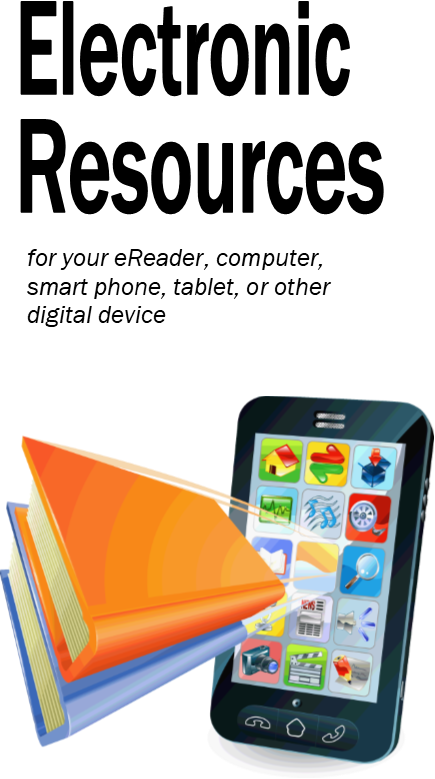 Did you know about our electronic resources? You can access them anytime with the links on the sidebar. Most of these resources will require you to have your library card, pin number, and an email address.
Access ebooks, audiobooks, online courses, language courses, and more!
Want to know more details about these resources? Click "Read More" for details!
Overdrive and Libby
Click here to visit OverDrive
Overdrive is an online site that allows you to borrow ebooks and audiobooks directly to your device.
With Overdrive our patrons can have 10 items checked out at a time. You can "return" the item when finished or after the allotted borrowing time the item will automatically be returned,
so no late fees.
Overdrive has our largest selection of digital content and is especially useful to those using an eReader or computer.
Libby is an app created by Overdrive that is designed to make borrowing ebooks and audiobooks easier when using a smart phone or a tablet. The content on Libby is the same as that on Overdrive. This app can be used as an extension of the Overdrive site or as its own resource.
Hoopla
Click here to visit Hoopla
Hoopla is an online streaming site and app where you can stream or download movies, TV shows, ebooks, audiobooks, and comics. You can download the app onto your smart device or a TV with eligible streaming capabilities. The items are automatically returned after their check out period ends, so no late fees.
Each card can check out five items a month with this service. Sign up by going to our website or to www.hoopladigital.com
TumbleBooks of the Day
Click here to visit TumbleBooks of the Day
Online books for kids, no library card required! Check back every day for a new TumbleBooks Book of the Day, Math Book of the Day, Game of the Day and Spanish Book of the Day plus Fun Facts!
Mango Languages
Click here to visit Mango Languages
Mango is an online site and app that can help you learn a new language through conversation and short film based resources. There are over 70 different languages that can be learned and sign up is easy. Visit our website and select the Mango icon or download the app directly onto your smart device.
Just a few of the languages offered from this resource: English, Spanish, Japanese, German, American Sign Language, Cherokee, and many more!
Gale Courses
Click here to visit Gale Courses
What is Gale Courses?
Gale Courses is an online site that offers a wide range of interactive, instructor led courses that can be accessed 24/7. Courses run for 6 weeks and new sessions of classes begin every month. With your library card, you are able to take these courses at no cost! Once you have completed a course you will receive a printable certificate to show your achievement.